The university is locatd in the ice city Harbin. Harbin is a must-see place when you visit northeast China. The city's rich Russian-style buildings and the beautiful snow sceneries are two important factors to attract tourists.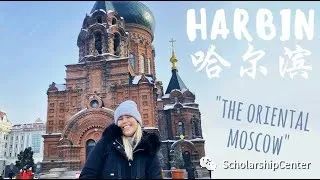 In winter, Harbin turned into a breathtaking ice city when the huge ice sculptures scattered in the parks and scenic areas are illuminated by colorful lights. In addition, skating, skiing, snow carriage and other kinds of snow sports are definitely worth experiencing.
However, Harbin has more charm than that. All kinds of delicacies including Russian food, Northeast China stew, Harbin sausage and Harbin beer will satisfy your appetites.
01
Study in Harbin
The university is one of the first key universities in the national "211 Project" and the key construction on the Specific Disciplines Innovation Platform (belongs to 985 project) and the first batch of key constructed universities in China.
Stuy conditions of the university is the best any student could ever wish for. Study areas are spread all over Campus. The school can also boast of the biggest and most resourceful library in the province.
02
CSC Scholarship Info
Degree: Doctoral
Major:
Management Science and Engineering
Computer Science and Technology
Nuclear Science and Technology
Optical Engineering
Materials Science and Engineering
Information and Communication Engineering
Mechanical Engineering
Underwater Acoustics Engineering
Control Science and Engineering
Marine Engine Engineering
Power Engineering and Engineering Thermophysics
Mechanics
Age: 18-40
Teaching Language: English
Tuiion fee after scholarship: 0
Dorm fee after scholarship: 0
Stipend: 3500 RMB/month
03
Required Docs
Passport-sized Photo
Passport ID Page
Academic Transcripts (scanned color copy)
Highest Degree Diploma (scanned color copy)
Foreigner Physical Examination Form
Non-criminal Record (scanned color copy)
English Language Proficiency Certificate (Majors taught in English: Non-native English speakers are required to provide IELTS score (≥5.5) or TOEFL score (≥80) or other equivalent certificates of English proficiency.)
Application Form
Study Plan (No less than 800 words with applicants' signature.)
CV
Two Letters of Recommendation (Signed by professors or associate professors.)
 Residence Permit (Applicants in China need a valid visa or residence permit.)
Study Certificate in China (If you have studied in China need Study Certificate and Transcript.)
Others