Memories of Early Winter

The leaves are falling, the wild geese flying south
The water is cold here, the wind from the North.
I remember my home, where the Xiang River bends
Hidden by the clouds of Chu.

I weep for my village, 'til my tears are spent
I spy a lonely sail that stares at the sky
Indulge me, where is the delta ferry?
The lake is peaceful and boundless.

Meng Haoran
Death comes to us all. For poet Meng Haoran, it came at the age of 50. Meng was born in Xianyang, Hubei in the ancient Chinese state of Chu, living most of his life there. He received his only official posting three years before his death, but left after less than a year.
China's Superstar Poets
By date of birth, Meng Haoran preceded Li Bai and Du Fu by 10 and 20 years. These three along with Wang Wei made up the pantheon of poetry superstars of the Tang Dynasty.
Until the age of forty, Meng Haoran lived  in his native Hubei province. When he finally traveled to the capital to seek fame and fortune, his poetic talents  came to the attention of  contemporaries. These included the likes Wang Wei, as well as poet and minister Zhang Jiuling. Through their efforts, Meng was recommended directly to Emperor Xuanzong. Unfortunately for Meng, his penchant for wine, a disdain for pomp, and the fact that one of his poems included a sentiment that did not look kindly on official life, gave the emperor pause and he decided Meng would be best left to wander and write.
Place Names
The River Xiang flows into Lake Dongting from the south, where it joins with the flow of the Yangtze. Beginning in late summer, flood water from the Yangtze also flows into the lake, enlarging the lake's surface area. Dreamy cloud formations result from the increase in moisture.
At a distance to the south and east of the lake, lies the southern Chinese state of 楚 (Chu). This ancient state encompasses most of present-day Hunan, as well as Hubei, where Meng was born and raised.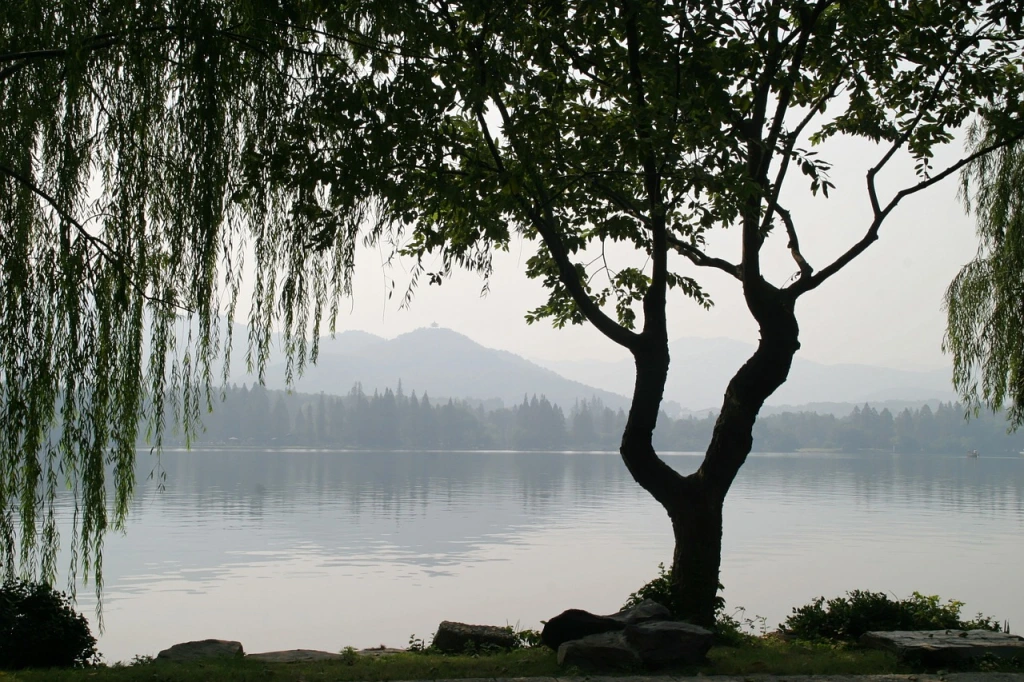 早寒有懷
木落雁南渡
北風江上寒
我家襄水曲
遙隔楚雲端
鄉淚客中盡
孤帆天際看
迷津欲有問
平海夕漫漫
Rhyme: abab
Pinyin
Zǎo hán yǒu huái
mù luòyàn nán dù
běifēng jiāngshàng hán
wǒjiā xiāng shuǐ qū
yáo gé chǔ yúnduān
xiāng lèi kè zhōng jǐn
gū fān tiānjì kàn
míjīn yù yǒu wèn
píng hǎi xī mànmàn