School Badge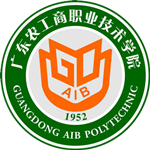 About Guangdong AIB Polytechnic
Guangdong
AIB Polytechnic is an ordinary public full-time college. The school was founded in 1952, formerly known as the South China Reclamation Cadre School founded by Marshal Ye Jianying when he was also the director of the South China Reclamation Bureau. In 1984, Guangdong Agricultural Reclamation Management Cadre College was established with the approval of the People's Government of Guangdong Province, and began to hold college degree education. In 1989, it was approved by the Ministry of Agriculture to be listed as the "South China Agricultural Reclamation Cadre Training Center", and changed its name to Guangdong Agricultural and Industrial and Commercial Management Cadre College in 1993, In 2000, it was transformed into Guangdong AIB Polytechnic.
Focusing on Guangdong AIB Polytechnic running orientation of high-level higher vocational colleges that are "first-class in China, world-class, highlighting the characteristics of tropical agriculture industry, and establishing a brand of Chinese vocational education", we have stabilized the scale and improved the quality, and created a path for the development of higher vocational education with agricultural and industrial characteristics.
In 2005, Guangdong AIB Polytechnic was identified as an excellent college in the national "assessment of talent cultivation in higher vocational colleges"; In 2016, it was identified as the project construction unit of "Guangdong Provincial Demonstration Higher Vocational College" and "Guangdong Provincial First class Higher Vocational College Construction Plan"; In 2018, it was awarded the "Service Contribution, International Influence and Teaching Resources" of the Annual Report on the Quality of Higher Vocational Education in China. In 2021, higher vocational colleges ranked first in the province in terms of the assessment results of "innovative and strong school", were selected as a national demonstration vocational education group (alliance) training unit, was rated as the national "high-quality school for rural revitalization talent training" by the Ministry of Education and the Ministry of Agriculture and Rural Affairs, and was awarded as the "Guangdong Province's first group for poverty alleviation". In 2022, it was selected into the 2021 Annual Report on the Quality of China's Vocational Education "Top 60 Schools with Advantages in Resource Construction of Higher Vocational Colleges", "Top 60 Schools with Typical Service Contributions" and "Top 100 Colleges with Excellent Student Development Index". The university has successively won the titles of "Advanced Unit of Vocational Education in Guangdong Province", "Advanced Collective of Teachers' Ethics Construction in Guangdong Province", "Civilized Unit in Guangdong Province", "Demonstration School of Governing Schools by Law in Guangdong Province", "National Agricultural and Rural Informatization (Technological Innovation) Demonstration Base", "BTEC Excellent Demonstration Center in Greater and Central China", "Top Ten Campus Cultural Brands in Guangdong Universities", etc; "Guangdong Agricultural Reclamation Economy and Rural Revitalization Research Center", "Guangdong Agricultural Reclamation Comprehensive Vocational Agro worker Training Base", "Guangdong High Quality Farmer Cultivation Demonstration Base", "Guangdong Rural Revitalization Training Institute", etc. have been established successively.
Guangdong AIB Polytechnic now has two campuses,
Guangzhou
Tianhe and Zengcheng, nine secondary schools, including Tropical Agriculture and Forestry College, Business School, School of Management, School of Finance and Economics, School of Intelligent Engineering, School of Computer Science, School of Foreign Languages, School of Art and Design, School of International Exchange, as well as teaching auxiliary training institutions such as the Ministry of Basic Education, College of Marxism, School of Continuing Education, and has set up Tropical Crop Research Institute, Vocational and Technical Education Research Institute, Computer Application Research Institute Institute of Communication Technology, Institute of Ideological and Political Education and other scientific research institutions.
Guangdong AIB Polytechnic has 49 enrollment majors, including 8 national key majors, including crop production and operation management, marketing, food intelligent processing technology, hotel management and digital operation, big data and accounting, business English, modern communication technology, and software technology; There are 7 provincial high-level specialty groups and 16 provincial brand specialties, ranking among the top in the province. The first category of brand specialties includes crop production technology, marketing, agricultural product processing and quality inspection, and the second category of brand specialties includes accounting, food processing technology, business English, software technology, communication technology, hotel management, digital media application technology, garden technology, international finance, automobile marketing and service, electronic information engineering technology Logistics management, product art design; There are 4 key majors of provincial higher vocational education, including big data and audit, tourism English, modern secretarial, animation production technology; It also set up 33 provincial vocational modern apprenticeship pilot majors, 43 1+X certificate pilot programs, and 11 professional programs of collaborative education with undergraduate colleges.
Guangdong AIB Polytechnic has won 1 second prize of national teaching achievement, 8 first prizes of provincial teaching achievement and 6 second prizes; The school is rich in teaching resources, with 5 national and 1 provincial courses in the professional teaching resource library, 1 national and 19 provincial excellent resource sharing courses, 9 provincial excellent online open courses, 10 typical cases of ideological and political education in national vocational schools, including 2 first prizes, 3 second prizes, and 4 Guangdong Engineering Technology Research Centers; 4 national level training bases, 7 provincial level training bases, 1 national level application technology collaborative innovation center, and 3 provincial level training bases; 1 national skill master studio and 2 provincial skill master studios; One national rural entrepreneurship park (base); 3 innovation platforms for integration of production and education.
The professional level of teachers is high. Among them, there are 450 teachers with senior professional titles, 2 experts with special allowance from the State Council, 1 Pearl River scholar, 1 national excellent teacher, 1 national female pacesetter, 1 winner of the National May Day Labor Medal, 2 Guangdong provincial "May Day" Labor Medals, 9 provincial famous teachers, 1 famous teacher of the "Guangdong Special Support Plan", 1 provincial training object of the "Ten Thousand" Project, 16 excellent teachers in South Guangdong, and 2 provincial young teachers, There are 8 provincial teaching teams, 4 provincial professional leading talents, and 43 provincial high-level part-time teachers. The teacher's teaching ability competition has achieved excellent results. Over the years, it has won 8 national awards and 102 provincial awards, ranking first in the province for many times.
Guangdong AIB Polytechnic has more than 20000 full-time students, ranking among the top vocational colleges in the province in terms of the scale of students. The enrollment scope covers 12 provinces (regions), including Guangdong, Hunan, Xinjiang,
Jiangxi
, Guangxi,
Henan
,
Hainan
,
Guizhou
,
Gansu
, Shanxi,
Sichuan
and Yunnan. The candidates are actively applying for the examination, and the student source advantage continues to lead. In recent years, the employment rate and salary of our graduates rank among the top in the province and are well received by employers.
Guangdong AIB Polytechnic pays attention to the quality education of students, vigorously cultivates and practices the socialist core values, carries forward and inherits the spirit of land reclamation, establishes 8 kinds of various student journals in the school, establishes 48 various student associations, regularly holds scientific and technological academic festivals, cultural arts festivals, creative competitions, sports meetings and other campus cultural activities, cultivates students' innovative thinking and practical ability, and helps students grow into talents. In 2021, nearly 300 awards at or above the provincial level will be obtained in all kinds of competitions between teachers and students; Teachers won 93 awards in provincial teaching ability competition, college young teachers' teaching competition and micro class competition; The number of first prizes and the total number of awards rank first in the province; There are 211 projects, including 59 national, provincial and ministerial projects, ranking the third in the province's vocational colleges.
Guangdong AIB Polytechnic actively carries out the service work of the "the Belt and Road" and the Guangdong Hong Kong Macao Greater Bay Area, carries out long-term cooperation with the United Kingdom, Germany, the United States, Malaysia, Hong Kong, Macao and Taiwan, introduces Sino British cooperation projects, and becomes the largest and best quality BTEC education center in China; Exported the "the Belt and Road" cooperation project with Southeast Asian countries, and developed many courses for enterprises and colleges in Malaysia, Thailand and other countries; It has undertaken the training project for foreign aid officials of the Ministry of Agriculture and Rural Affairs of the People's Republic of China, providing training for nearly 1000 officials from 22 countries.