Are you ready to explore one of the most breathtaking mountains in China? Look no further than Tianmen Mountain, located in the heart of Zhangjiajie National Forest Park in Hunan province!
At an elevation of 1,200 meters, Tianmen Mountain is a marvel of natural beauty, with towering sandstone pillars, lush forests, and stunning vistas that will take your breath away. But that's not all – this mountain is also steeped in history and culture, with ancient temples, intricate carvings, and legends that will transport you back in time.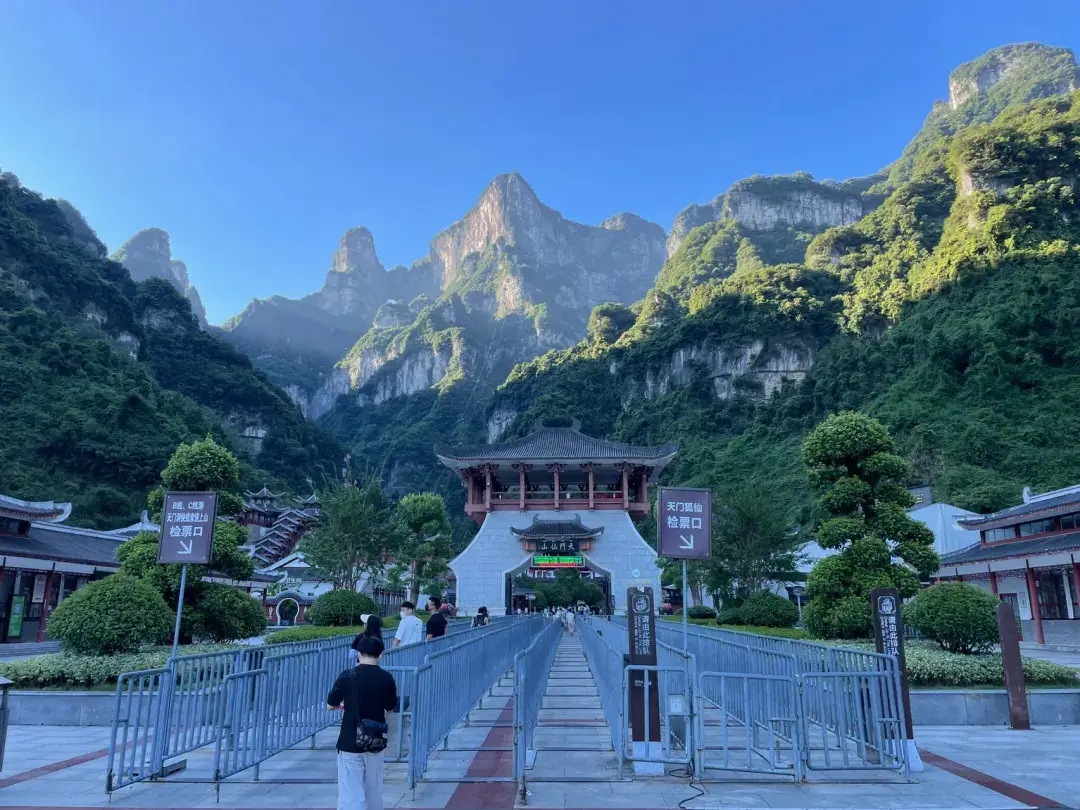 Getting There
First things first, how do you get to Tianmen Mountain? The mountain is located within Zhangjiajie National Forest Park, which is about 40 kilometers from Zhangjiajie City. You can take a bus or taxi from Zhangjiajie City to the park's entrance, and then transfer to a cable car or bus to reach the mountain's base.
Cable Car or Hiking?
Now, the big question – do you want to take a cable car or hike up the mountain? If you're looking for a more leisurely experience, the cable car is a great option. It takes about 8 minutes to reach the top, and offers stunning views of the surrounding landscape. 😍 If you're feeling more adventurous, why not try hiking? There are several hiking routes to the top, ranging from easy to challenging. The hike takes about 2-3 hours, and offers breathtaking views of the mountain's unique landscapes.
Top Attractions
Once you reach the top of Tianmen Mountain, you'll be rewarded with a wealth of natural and cultural attractions. Here are some of the top things to do:
Tianmen Cave: This stunning cave is located at the top of the mountain, and features intricate carvings, statues, and murals that tell the story of Chinese mythology.
Tianmen Temple: This ancient temple is dedicated to the god of Tianmen Mountain, and offers a glimpse into China's rich cultural heritage.
Yunmeng Fairy Summit: This summit offers breathtaking views of the surrounding landscape, and is a great spot for photography.
Tianmen Mountain Peak: At 1,200 meters, this peak is the highest point of the mountain, and offers panoramic views of the surrounding area.
Tips and Tricks
Before you start your journey up Tianmen Mountain, here are some tips and tricks to keep in mind:
Wear comfortable shoes and clothes suitable for hiking and exploring.
Bring sunscreen, insect repellent, and plenty of water to stay hydrated.
Consider hiring a guide to help you navigate the mountain and learn about its history and culture.
Plan your itinerary in advance to avoid missing out on any must-see attractions.
Don't forget your camera, as you'll want to capture the mountain's breathtaking scenery and unique landmarks.