School Badge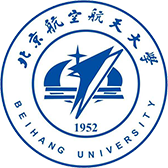 About Beijing University of Aeronautics and Astronautics
Beihang University (previously known as
Beijing
University of Aeronautics and Astronautics) was founded on October 25, 1952 under the name of Beijing Institute of Aeronautics, originating from the merger of the aeronautical departments of
Tsinghua University
, Beiyang University,
Xiamen
University,
Sichuan
University, etc. Located in the center of the Zhongguancun Science Park and within easy reach of central Beijing, Beihang is the first university in China focusing on aeronautical and astronautical education and research. About 26km away from the main campus, the suburban Shahe campus provides quiet study milieu and is also home to the National Laboratory of Aeronautics and Astronautics (NLAA). The very new Doudian campus aims at research and innovation through engineering combined with medicine.
Since its founding, Beihang has excelled as one of the first 16 key universities in China, given priority for development. In 2017, Beihang was chosen to participate in the Double First-Class plan, which includes major support from the Chinese Ministry of Education and other government departments to build a world-class university with world-class disciplines. Over the past 69 years, Beihang has fostered more than 200,000 professionals in various sectors for the world. The main designers and chief engineers of China's first manned space flight, Shengzhou-5 Spacecraft, are Beihang alumni. The university and its alumni have contributed the most to the country's aeronautical, astronautical and other relative industries.
At present, the university comprises more than 30 schools/colleges and covers 10 discipline categories, including science, technology, medicine, liberal arts, law, economy, management, philosophy, foreign languages and education. Among all disciplines are 8 first-level national key disciplines and 28 second-level ones. Based on its various disciplines, the university provides 74 undergraduate programs and authorizes 25 kinds of doctoral degrees as well as 39 kinds of Master's degrees. It is also home to 23 post-doctoral research centers. Six disciplines including engineering, material science, physics, computer science, chemistry, and social sciences are listed among the world's top 1% in the ESI rankings, and engineering and material science are ranked in the world's top 1‰. According to
Shanghai
Ranking's Global Ranking of Academic Subjects 2020, aerospace engineering ranked first in the world for the third consecutive year.
The university has a total of 4,266 faculty and staff members, of whom 2,368 are full-time faculty members and 86.64% have doctorates. Among them are 26 academicians of either the Chinese Academy of Sciences or the Chinese Academy of Engineering, 63 professors of "Chang Jiang Scholars Program", 59 winners of the National Science Fund for Distinguished Young Scholars, 36 members of the Ten Thousand Talents Plan, 5 national distinguished teachers, 74 winners of Excellent Young Scientists Fund and 28 young scholars of "Chang Jiang Scholars Program". Numerous national first prize winners, field experts and chief designers have emerged in the talent team, as well as a large number of young, promising and accomplished experts and scholars.
Beihang has now a total enrollment of over 37,000 full-time students, including about 2,300 international students who are pursuing their degrees. Beihang is deeply committed to an education that fosters innovation and intercultural awareness. It is a campus tradition that Beihang students participate in innovation contests and figure out the most creative solutions in teams every year. It is also a booming trend for many students to spend weeks, months or even years studying abroad at our partner universities.
Establishing a solid scientific foundation and innovative capacity that caters to China's national strategic needs is a high priority for Beihang University. As one of the important bases for scientific/technological innovation and high-level personnel education in China, Beihang has 1 national laboratory, 9 national key laboratories (including four key laboratories of defense technology), 6 national engineering centers, 3 Beijing advanced innovation centers, over 70 provincial or ministry-level key laboratories, 10 national discipline innovation and talent introduction bases for higher education, 9 NSFC innovation research groups, 12 Ministry of Education innovation teams and 10 national defense science and technology innovation teams. For over 60 years, the university has been a pioneer in developing cutting-edge science and technology, making more than 40 research achievements that are first in China and winning the three top national science and technology awards over 70 times. In addition to serving the country, Beihang is also striving to boost engagement with the world-wide flow of talent, vigorous intellectual exchange, and international