School Badge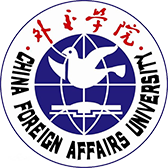 About China Foreign Affairs University
Since its founding in 1955, China Foreign Affairs University (CFAU) has been dedicated to grooming China's most promising young minds with global vision and great learning to work for China's foreign services and for world peace and prosperity. Directly affiliated with China's Ministry of Foreign Affairs and co-built by the Ministry of Education, CFAU offers a unique educational experience that prides itself in intellectual integrity and academic excellence.
CFAU adheres to the philosophy that CFAU education should pride itself in diplomatic and international studies with high-level proficiency in foreign languages. CFAU trains its students with "true patriotism and global vision; professional expertise and great proficiency in foreign languages; and high quality and interdisciplinary knowledge".
CFAU has an about 2,300 student population composed of Ph.D., MA, BA, and more than 100 international students. The University has eight departments and one specialized institute focusing on education & research, including Department of Diplomacy & Foreign Affairs Administration, Department of English & International Studies, Department of Foreign Languages, Department of International Law, Department of Basic Education, Department of Graduate Studies, School of International Economics, School of International Education, and Institute of International Relations. Additionally, CFAU has more than thirty research institutes and centers, including the Institute of Asian Studies, the Institute of International Law, and the Chinese Foreign Policy Studies Center. Students are able to specialize in subjects such as diplomatic studies, English, Translation & Interpreting, French, Japanese, Spanish, International Law, International Economics & Trade, Finance, International Relations and World Politics, etc.
CFAU was the first Chinese university to offer Diplomatic Studies as a major at the undergraduate level, and was also amongst the first group to confer Ph.D. and Master Degrees in International Relations and Diplomatic Studies. CFAU has two nation-level first class undergradugate majors: Diplomatic Studies and English and International Studies, one province-level first class undergraduate major: International Law, and one post-doctoral research station. China National Association for International Studies and Chinese Society of International Law, two nation-level academic organizations, have their secretariats on CFAU campus. The Research Centre for
Beijing
International Exchanges and Foreign Affairs Administration under the auspice of the Beijing municipality, is also based at CFAU. As an important foreign policy think-tank, CFAU is China's focal point for the NEAT (Network of East Asian Think-tanks) ,NACT (Network of ASEAN-China Think-tanks) and NTCT (Network of Trilateral Cooperation Think-tanks). Foreign Affairs Review—Journal of China Foreign Affairs University has been rated as a "National Excellent Journal for Social Sciences" and a "National Core Journal for Humanities and Social Sciences".
The CFAU Board of Trustees was set up in May 1995. The Board's first honorary chairman was the former Vice Premier Qian Qichen. Over the past decades, the chairman has been the successive Foreign Ministers. The fourth Board of Trustees was formed in January 2014, and Qian Qichen was again named honorary Chairman of the Board. The current Chairman of the Board of Trustees is Foreign Minister Wang Yi.
With the deepening of China's reform and opening to the outside world, CFAU has been expanding its connections with other countries through cultural and academic exchanges and has established ties with institutes for diplomatic studies, universities, and research institutes based in the US, the UK, France, Russia, Canada, Australia, Japan, Korea, etc. In January 2013, CFAU signed an agreement co-establishing the Confucius Institute with the University of French Polynesia. CFAU is a member of the International Forum on Diplomatic Training (IFDT), a yearly world meeting of Deans and Directors of Diplomatic Academies and Institutes of International Relations, and attends the Forum to discuss relevant academic issues, and exchange information and experiences regarding matters of school management and development. Each year CFAU has the honor to host world-renowned statesmen, diplomats and scholars on campus either for visits or giving lectures at the University.
Over the past 65 years, approximately 20,000 students have graduated. Amongst CFAU's alumni, more than 30 have been charged with official ministerial duties, about 500 have served as ambassadors to foreign countries, and more than 1,000 have served as counselors in Chinese embassies abroad, directors of governmental departments and agencies other than the Foreign Ministry, or professors and scholars with senior professional titles. It's no exaggeration to say that wherever China's red five-star national flag is raised, there are alumni of CFAU present, making CFAU truly worthy of the name, "The Cradle of Chinese Diplomats".
During the 1950s and 1960s, CFAU trained more than 100 international students from the USSR, Eastern European countries, DPRK, Vietnam, etc., some of whom have been placed into senior positions in their respective countries or sent back to China as ambassadors. In recent years, CFAU has organized training programs for diplomats from Asia, Africa, Latin America, Eastern Europe, Central Asia, and ASEAN countries or regions. So far, more than 3,000 diplomats from more than 150 countries have participated in the programs.
With growing overall national strength, China needs more and more exceptional people to work in the fields of diplomacy and foreign services. In response to this increasing national need, CFAU has built a second campus in the Shahe University Area under the guidance and support of the Party Central Committee, the State Council, and the Ministry of Foreign Affairs. With a total floor space of more than 800,000 square meters and gross building area of 28.8 hectares, the first phase of the construction project was completed and put into use in September 2012. The Shahe campus provides students with a pleasant and spacious learning and living environment with modern facilities and equipment, reflecting CFAU's distinct educational philosophy of inclusiveness, rationality, and humanity.
On January 3, 2014, the Agreement of Co-Building China Foreign Affairs University between the Ministry of Foreign Affairs and the Ministry of Education was signed at the Diaoyutai State Guesthouse. According to this agreement, the two ministries will establish a coordination mechanism and increase efforts to support the University in terms of policy, financing, discipline development, academic research, talent cultivation, personnel training, and faculty development
The Ministry of Education, the Ministry of Finance and the National Development and Reform Commission jointly released a selected list of the country's construction plan of world-class universities and first-class disciplines known as the "Double First-Class" initiative on September 21, 2017. CFAU ranks among the top 95 disciplines in the country according to the list.
The Party and the State have entrusted the university with an honorable mission to build itself into a university with world-class disciplines. CFAU will forge ahead in constructing the first-class disciplines of International Relations and Diplomacy with Chinese characteristics and continue to seek new ways to prepare students to meet the needs of the multidimensional aspects of diplomacy and foreign services, further develop disciplines, deepen pedagogical reforms, and advance teaching quality. With the efforts of all faculty, staff and student community, CFAU in this new era will be further developed into an incubator for China's diplomats, the forefront of theoretical studies and innovation of China's diplomacy, and a vital force in international exchanges and cooperation.