School Badge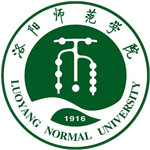 About Luoyang Normal University
Luoyang
Normal University is located in Luoyang—an ancient capital of a thousand years and the city of peony flowers. The school was established in 1916, originally under the name "Heluodao Normal School". It was renamed "Luoyang Normal College" . The name "Luoyang Normal University " was adopted in 2000.The school got non-full-time graduate student recruitment qualification in 2015.
It now has 24 schools, including School of Marxism, School of Liberal Arts, School of History and Culture, School of Law and Public Administration, School of Foreign Languages, School of Mathematical Science, School of Physics and Electronic Information, School of Chemistry and Chemical Engineering, School of Information Technology, School of Physical Education, School of Music, School of Fine Arts, School of artistic design , School of Science of Education, School of Life Science, School of Commerce, School of Early Childhood Education, School of Journalism and Communication, School of Landscape and Tourism, School of International Education, School of Extended Education and Vocational School of Software.
It also has 2 public education departments and 67 majors of undergraduate course, covering 10 branches of liberal arts, science, engineering, economics, management, law, history, education, arts and agriculture.
The school vigorously implements the strategy of "Ensuring the universities' prosperity with talented people " and forms a well-structured and well-qualified teachers team. There are more than 1, 420 faculty and staff members, including more than 1, 200 full-time teachers with 513 senior titles and 301 PHDS.There are over 31,000 full-time students, and 4,000 students of extended education.
As a member of IAUP, Luoyang Normal University is developing international education, and is having educational cooperation with Politecnico de Torino in Italy, University of Florida, Central Michigan University and Clark University is the USA, Victoria University in New Zealand, as well as IT Carlow and WIT in Ireland.
Luoyang Normal University covers 1.9million square meters. The campus is constructed with the design concept of "people as the foremost, culture as the soul, water as the rhythm, which is fully functional, ecologically harmonious, and continuously developing." Under the direction of the scientific, liberal and refreshed ideology, it is beautiful, smart and full of culture.
With the motto of "Self-Discipline and Social Commitment"and the educational philosophy "cultivate teachers with morality, train students with integrity."Luoyang Normal University will stand on
Henan
, face China, improve the richness, and move forward in cultivating teachers and breeding application-type talents.