The moon sets, the crows cry, the air is full of frost
River Maples and fires on fishing boats are the answer to a worried sleep
In Gusu, the bells of Hanshan Temple ring
In the middle of the night, to welcome a guest on a boat
La lune se couche, les corbeaux caquetent, le ciel est plein de givre
Les érables argentés et les lanternes des pêcheurs répondent à un sommeil inquiet
À la périphérie de Gusu, près du temple Hanshan, au milieu de la nuit,
Le son des cloches arrive pour les invités sur un bateau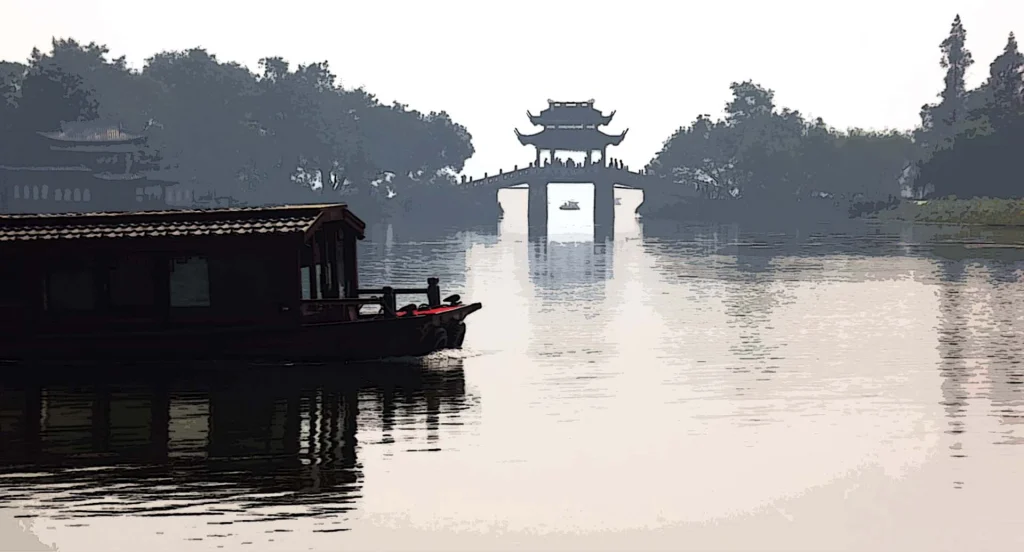 Zhang Zi at the Maple Bridge
Zhang Ji, (712-715 to 779) was born in Xiangyang County, Hubei Province. In the twelfth year of reign-title Tianbao (753), he successfully passed Jinshi, the highest imperial examination. Zhang Ji was then appointed Secretary, Second Class in the Board of Inspection of Schools and Temples at Hongzhou (present-day Nanchang City, Jiangxi Province).
His career was interrupted two years later by the An Lushan Rebellion (755 – 763) and little else of his life is known with certainty although he obviously made a trip from Hongzhou down the Yangtze by boat to visit Suzhou and the Hanshan Temple.
Maple Bridge, Fēngqiáo, that Zhang Ji writes about, is located in Suzhou, Jiangsu Province. It is on the lower reaches of the Yangtze River just before Shanghai. Gusu, mentioned in the poem, is the Old City with its quaint waterways and gardens. At this spot, three canals intersect, one being the famous Grand Canal. Nearby is Hanshan Temple and its accompanying monastery. The bell ringing at the Temple on Chinese New Year's eve is a major pilgrimage event.
Zhang's poem is a familiar part of Chinese school curriculum. The Japanese calligrapher, Ike Taiga, frequently used Zhang Ji's poems in his works. The poem's first line is incorporated in the lyrics of a modern day song by Cui Yanguang, 崔岩光.
Original Chinese and Pinyin
 楓橋夜泊
月落烏啼霜滿天
江楓漁火對愁眠
姑蘇城外寒山寺
夜半鐘聲到客船
Fēngqiáo yè pō
Yuè luò wū tí shuāng mǎn tiān,
jiāngfēng yúhuǒ duì chóumián,
gūsū chéng wài hánshānsì,
yèbàn zhōng shēng dào kèchuán