Suzhou is an attractive city with poetic and pictorial splendor in eastern China. It features with meticulously-designed gardens, canal-side old towns as well tasteful Suzhou silk. In order to enjoy an efficient Suzhou tour, it will be better if you know Suzhou's location, transfer way, and attractions distribution well. China Discovery here collects the most helpful maps for you, including Suzhou China Maps, Suzhou Transfer Maps, Suzhou Tourist Maps, etc. Feel free to download these maps and plan your Suzhou trip in a smarter way.
Suzhou Location Maps – Where is Suzhou
Suzhou is located in the southern part of Jiangsu Province, bordering Taizhou (Jiangsu) in north, Jiaxing (Zhejiang Province) in south, Shanghai in the east , Wuxi in the west and Huzhou (Zhejiang Province) in the south and west, while Jiangsu Province is located in the east of China, bordering Shangdong Province in the north, Zhejiang Province in the south, Anhui Province in the west and Shanghai in the southwest.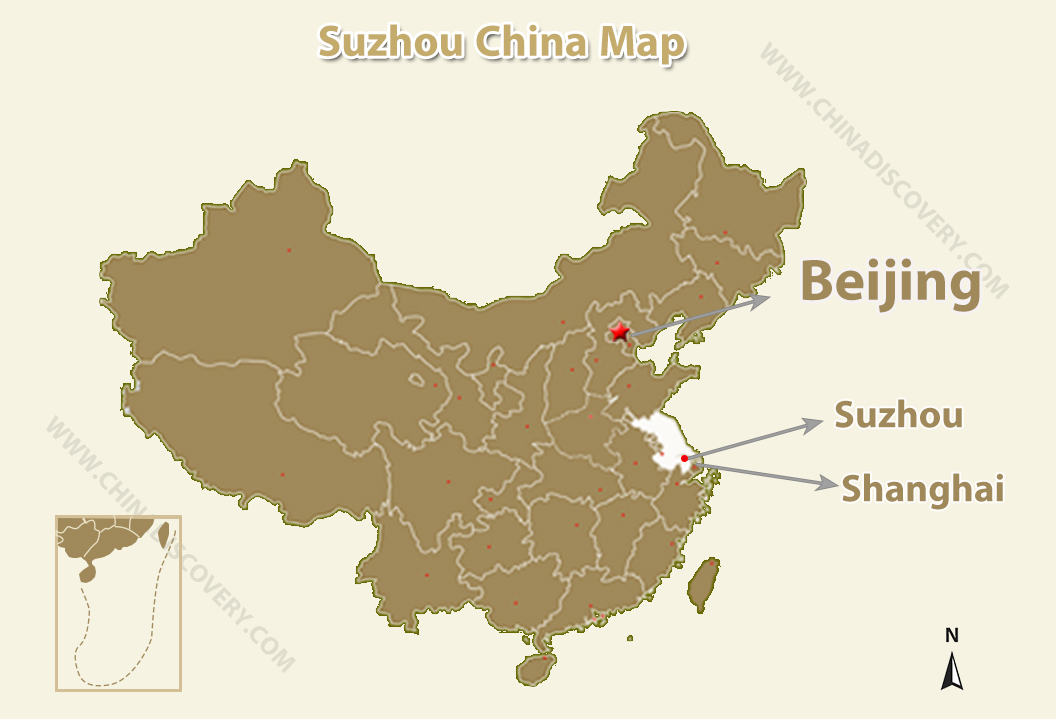 Suzhou Transfer Maps – How to Get to/around Suzhou
Since Suzhou has no airport at present, so taking a high speed train is the best way to get to Suzhou. You can get to Suzhou by high speed train from Shanghai (about 0.5h), Hangzhou (1.5~2h), Nanjing (45min ~ 1.5h), Huangshan (3~3.5h), Beijing (4~4.5h), Xian (6~8h), Wuhan (3.5~5h), Chengdu (11 h), etc. If you want to travel from some cities in the distance, you can take a flight to Shanghai first, and then travel to Suzhou. Getting around Suzhou by taking public transport is also possible, but we suggest you use private transfer service for a more comfortable experience. Check the detailed transfer maps below. Check detailed maps of how to get to/around Suzhou here:
Suzhou Tourist Maps – How to Travel Suzhou
In Suzhou, you really get plenty of places to visit. The Classical Gardens of Suzhou is a must, and highly recommended gardens include Humble Administrator's Garden, Lingering Garden, Master of the Nets Garden, Lion Grove, Canglang Pavilion, etc. After Suzhou gardens, you can explore Suzhou Silk in Suzhou No.1 Silk Factory and Suzhou Silk Museum. Besides, many water towns are also worthwhile to visit, such as Zhouzhuang Water Town, Tongli Water Town, Luzhi Water Town, etc. Check the detailed travel Suzhou maps here: