Wuhan, the sprawling capital of Central China's Hubei province, is a commercial center divided by the Yangtze and Han rivers. The city contains many lakes and parks, including expansive, picturesque East Lake. Nearby, the Hubei Provincial Museum displays relics from the Warring States period, including the Marquis Yi of Zeng's coffin and bronze musical bells from his 5th-century B.C. tomb. ― Google
Campus Scenery
Accommodation conditions
Learning and activities
Advantages
The university insists on opening up the university. The university has established close ties with more than 100 universities, sports education and research institutions and world-renowned sports organizations in 37 countries (regions), and has deepened exchanges and cooperation in talent training, academic exchanges, scientific research and competitive sports. There are Asian Gymnastics Training Center and International Gymnastics Academy, China Aquatics Academy, China Triathlon Academy, China Boxing Academy and China Fitness Academy, which are licensed by the International Gymnastics Federation. Actively carry out joint university projects with foreign universitys, there is one Sino-foreign cooperative university project and six international cooperative university projects, with more than 300 students in university. In 2014, the university was approved as an institution entrusted with the training of Chinese government scholarship students, and has trained a total of 78 long- and short-term international students. The university has been cooperating with provincial (city and autonomous region) sports bureaus, industry sports associations and enterprises in the fields of science and technology services, sports reserve training and sports industry.
School Badge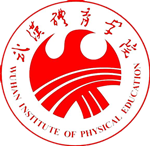 About Wuhan Sports University
Wuhan
Sports University, formerly known as Zhongnan Institute of Sports, is one of the first batch of independent full-time higher education institutions of sports after the founding of New China, founded in 1953 in
Nanchang
,
Jiangxi
Province, moved to Wuhan,
Hubei
Province in 1955, renamed Wuhan Sports University in 1956, directly under the State General Administration of Sports, adjusted to the State General Administration of Sports and Hubei Provincial People's Government in 2001. The university is located on the shore of the beautiful East Lake, surrounded by mountains and water, with a beautiful campus environment, advanced facilities, strong faculty, rich cultural heritage and distinctive features. The university adheres to the university motto of "public courage, sincerity and perseverance, learning, thinking, discernment and action", and insists on the philosophy of "integrating sports, science and technology and humanities education, and integrating moral, cultural and professional qualities". In 2018, it was selected as one of the first batch of "double first-class" universities in Hubei Province.
---
The university covers an area of 1820.6 acres, divided into East Lake (Zhuo Dao Quan) campus, Zang Long Island campus, Wudang Mountain campus and East Lake High-tech Zone (Pao Xi) campus, with more than 13,700 full-time students (more than 11,600 undergraduates, more than 2,100 master and doctoral students, 38 international students). A full-time undergraduate independent college, Wuhan Sports University Science and Technology, with a full-time enrollment of more than 7,000 students.
---
The university has a full range of disciplines, covering eight disciplines, including education, literature, economics, management, science, engineering, art, and medicine. The first-level discipline of physical education has outstanding advantages and distinctive features, and has been awarded as "Advantageous Discipline of Hubei Provincial Universities", "Innovative Discipline with Outstanding Achievement in Hubei Province", "Key Advantageous Discipline of Hubei Province", and "Double First Class" of Hubei Province. The first-level discipline of "Intelligent Sports and Industrial Development" has been awarded as the "Double First-class" construction discipline in Hubei Province and "A" in the fourth round of discipline evaluation of national universities. "Intelligent Sports and Industrial Development", "Sports and Brain Science", "Sports Education Integration and Health Promotion" and "Journalism and Communication "Four disciplines (groups) have been approved as the advantageous and characteristic disciplines (groups) of Hubei Province in the 14th Five-Year Plan.
---
The university has 25 undergraduate majors enrolled nationwide. The university has been awarded 6 national first-class undergraduate majors and 5 provincial first-class undergraduate majors; 3 national special undergraduate majors and 4 provincial brand majors; 1 national professional comprehensive reform pilot, 6 Hubei professional comprehensive reform pilots, 6 Hubei strategic emerging (pillar) industry talent training program undergraduate projects for universities in Hubei Province, 4 Hubei universities "2 colleges were selected as pilot colleges for reform in Hubei province; 2 national first-class undergraduate courses, 14 provincial first-class undergraduate courses, 5 online open courses of the State General Administration of Sports, 30 provincial high-quality resource sharing courses, video open courses and high-quality courses were approved. The university has been awarded 11 provincial-level teaching teams and 12 provincial-level excellent grass-roots teaching organizations.
---
The university's postgraduate education started in 1960, and it is one of the earliest units in China to cultivate postgraduate students in physical education. The university has the right to confer doctoral degrees in the first-level disciplines of kinesiology, and the authorization points for the disciplines of humanities and sociology of sports, sports human science, physical education and training, traditional ethnic kinesiology, sports psychology, sports engineering, sports rehabilitation, etc. The university also has the right to confer master's degrees in the first-level disciplines of kinesiology, psychology, journalism and communication, music and dance, special medicine and business administration, etc. The university also has the right to confer master's degrees in sports, applied psychology, journalism and communication, etc. The university has the right to confer four professional master's degrees, including master of physical education, master of applied psychology, master of journalism and communication, and master of arts. The university has the qualification of recommending excellent fresh undergraduates to take master's degree without examination, and has established a postdoctoral research station in physical education.
---
The university implements the spirit of the National Education Conference and
China Education
Modernization 2035, implements the fundamental task of establishing moral education, strengthens ideological and political work, deepens education and teaching reform, builds a high-level talent cultivation system, and continuously improves the quality of talent cultivation. The overall employment quality and career development quality of graduates are high, which is well received by employers and society.
---
The university has a strong faculty, with 55% of full-time teachers and coaches with senior titles. There are a number of experts and scholars and high-level coaches who have great influence at home and abroad, among which, 71 people have been awarded national and provincial honorary titles and talent projects.
---
The university has 10 scientific research institutions such as provincial and ministerial key laboratories, key research bases of humanities and social sciences, and engineering and technology research and development centers. Since the 13th Five-Year Plan, the university has undertaken more than 50 national research projects, more than 300 provincial and ministerial research projects, and more than 200 horizontal research projects, including 3 major projects and 4 key projects of the National Social Science Foundation and 8 projects of the National Science and Technology Support Program; it has won more than 20 provincial scientific research awards, including 9 second-class awards, and many research results have been awarded national invention patents. The academic journal "Journal of Wuhan Institute of Physical Education" sponsored by the university is a journal funded by the National Social Science Foundation, a journal selected by the Ministry of Education for "Construction of Famous Columns" and a journal of the Four Core Journals Square; "Journal of Physical Education" is an excellent journal in Hubei Province.
---
In 1980, in accordance with the development plan of the State Sports Commission (now the State General Administration of Sports) to set up high-level sports teams in higher physical education institutions, the university was established as an affiliated competitive sports university, and in 2003, the university of Competitive Sports was established, which now offers water sports such as rowing, kayaking and web swimming, heavy sports such as wrestling, boxing, taekwondo and karate, as well as athletics and gymnastics. There are more than 450 student athletes, 44 coaches, including 12 national coaches, more than 70 people have coached in the national team, and many coaches and athletes have won the "National Sports Medal of Honor", "National Sports Medal of First Class". A number of coaches and athletes have won the "National Sports Medal of Honor", "National Sports Medal", "China's Top Ten Outstanding Youth", "May Day Labor Medal" and other honors. In 1988, Zhang Xianghua won a silver medal and a bronze medal in rowing at the 1988 Seoul Olympic Games, ending the history of Chinese rowing without medals in the Olympic Games and creating a precedent for students of sports colleges to win medals in the Olympic Games. The athletes have won 98 gold medals, 19 silver medals and 21 bronze medals in the Asian Games, Asian Championships and Asian Cup. The national three competitions (National Games, Championships, Championships) won 525 gold medals, 211 silver medals and 204 bronze medals, training and transporting a large number of outstanding student athletes and athletic sports complex talents such as Zhang Xianghua, Yang Wei, Cheng Fei, Lu Huihui, Guan Chenchen, etc., who have won great achievements in the world's major competitions and have brought glory to the country and color to the province, making important contributions to the construction of a strong sports country and a strong sports province. It was awarded the "Sports Contribution Award" by the State General Administration of Sports, and approved as the "National Key High Level Sports Reserve Talent Base" by the State General Administration of Sports.
---
In the future, the university insists on taking Xi Jinping's thought of socialism with Chinese characteristics in the new era as its guide, implementing the Party's education policy, bearing in mind the mission of nurturing people for the Party and the country, comprehensively dovetailing with the national strategies of education, sports and health China, deepening the integration of sports and education, strengthening the characteristics of university operation, comprehensively improving the training capacity, and striving to start a new journey of building a world-class applied research sports university at the forefront of China.
Study At China Best Universities!