What are you thinking as we part,
Reign in your horse, drink from this cup while we speak of disgrace
When Wu Gorge howls and the monkeys weep,
Will the wildgoose return to Hengyang with a royal decree?….
In autumn, the green maples on the river are fading away,
In Baidi, it rains and the trees are few
But a New Year is bound to bless us with the dew of His heavenly favor
Take heart, we'll soon be together again!
Let me get this quick draft out and I shall return. This poem should be read along with Li Bai's poem "Setting off from Baidi"…
What will the New Year bring
What will the new year bring is a familiar refrain to all of us.
Tang poet Gao Shi (ca. 704–765) reflects on the disgrace shared by Vice-prefects Li and Wang (his friends and fellow poets, Li Bai and Wang Wei). Gao Shi could have written the lyrics for Donna Fargo's song, "What will the New Year bring?"
"This past year was good to us the one before just a little rough
The one before that was an awful thing what will the new year bring."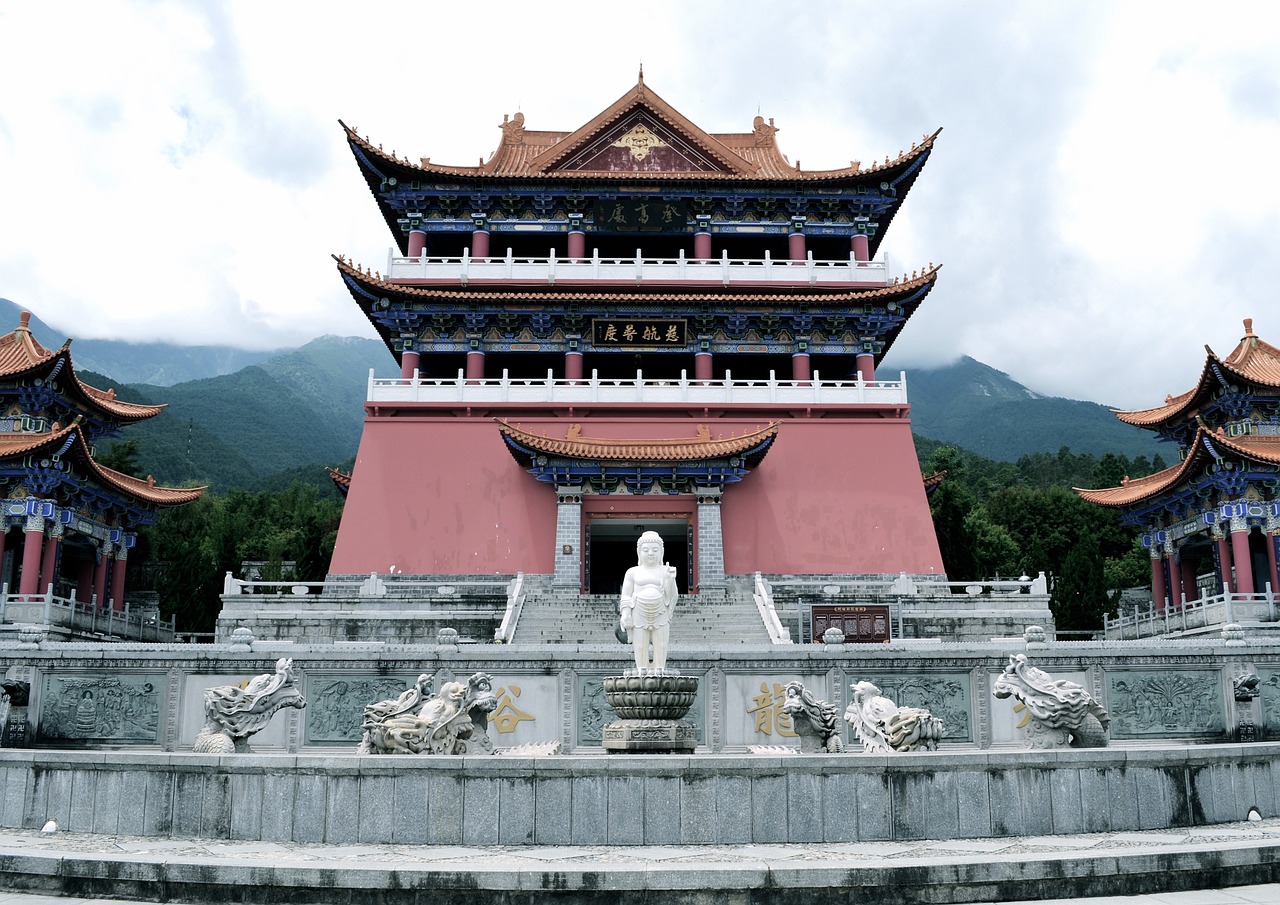 755
The year 755 was a rough one in China. The An Lushan Rebellion began, lasting for eight years before General An Lushan was assassinated and the rebellion ended. A year after the rebellion began, the capital at Chang'an fell to the rebels, the emperor fled to Sichuan, then abdicated in favor of his son.
Things did not go well for poets Li Bai and Wang Wei.
758
In the summer of 758, Li Bai was banished to Yelang (near Hengyang and Xiazhong); before arriving, he benefited from a general amnesty. Wang Wei was captured by the rebels and forced to work for them. When the Tang forces freed him he was charged with treason, but saved by his brother a Tang official. Wang was banished for about four years in Qizhou (Guizhou, near Hengyang, near Changsha, Hunan province).
Baidi
Baidi refers to the grounds and Baidi Temple, which sits at the top of a hill, and is reached after a climb of a thousand steps. It is located at near the Qutang and Wu Gorges, north of the Yangtze River.
It was a frequent visiting place for poets and philosophers. (The image is not Baidi, but another temple.)
Original Chinese
嗟君此別意何如
駐馬銜杯問謫居
巫峽啼猿數行淚
衡陽歸雁幾封書
青楓江上秋帆遠
白帝城邊古木疏
聖代即今多雨露
Pinyin
Jiē jūn cǐ bié yì hérú zhù
mǎxián bēi wèn zhéjū
wū xiá tí yuán shù háng lèi
héngyáng guī yàn jǐ fēngshū
qīngfēng jiāngshàng qiūfān yuǎn
bái dì chéng biān gǔmù shū
shèngdài jíjīn duō yǔlù
Notes on the Chinese
Lines 1 and 2. Gao Shi is taking leave of his friends Li Bai and Wang Wei. All three were known to like to drink.
Line 3. 巫峽 Wu Gorge, the second of three gorges along the Yangtze River. Monkeys live along the river banks.
Line 4. 雁 wildgoose is the emperor. 衡陽 Hengyang, a prefecture size city in Hunan Province.
Line 5. Baidi, a famous temple complex at the top of a thousand stairs frequented bu poets.
送李少府贬峡中王少府贬长沙
高适 〔唐代〕
嗟君此别意何如,驻马衔杯问谪居。
巫峡啼猿数行泪,衡阳归雁几封书。
青枫江上秋帆远,白帝城边古木疏。
圣代即今多雨露,暂时分手莫踌躇。
译文及注释
译文
此次离别不知你们心绪何如,停下马来饮酒饯别询问被贬的去处。
巫峡猿猴悲啼令人伤心泪下,到达衡阳后让大雁多为我捎来几封书信。
秋日青枫江上孤帆远远飘去,白帝城边古木参天、枝叶扶疏。
当今正逢盛世,朝廷是会普降恩泽的,我们只是暂时的分离,不要烦恼悲伤。
注释
峡中:此指夔州巫山县(今属重庆)。
谪居:贬官的地方。
巫峡:地名,在今重庆市巫山县东。古民谣《巴东三峡歌》:"巴东三峡巫峡长,猿鸣三声泪沾裳。"
衡阳:地名,今属湖南。相传每年秋天,北方的南飞之雁,至衡阳的回雁峰,便折回北方。这是由长沙想到衡阳,意思要王少府至长沙后多写信来。
青枫江:地名,在花溪。秋帆:指秋风吹着小舟,送友人远去。▲
赏析
  这是一首送别诗。此诗是诗人为送两位被贬官的友人而作,寓有劝慰鼓励之意。一诗同赠两人,内容铢两悉称。诗除了首尾合起来总写外,中间两联双双分写,不偏祜。颔联上句写巫峡风光,以古民谣典故来暗示李少府所去的峡中荒凉之地;下句写衡阳,暗示王少府去长沙,并希望他能多寄书函。颈联上句写长沙青枫江的帆船,是再写王少府;下句写白帝城,远在古原始森林的巴东,是再写李少府。双双交错进行,结构严密,情感交织。最后两句,是劝藉二人尽可放心而去,不久即可召还。全诗情感不悲观,也不消极。
  首联"嗟君此别意何如,驻马衔杯问谪居。"诗人首先抓住二人都是遭贬,都有满腹愁怨,而眼下又即将分别这一共同点,以深表关切的问句开始,表达了对李、王二少府遭受贬谪的同情,以及对分别的惋惜。"嗟"是叹息之声,置于句首,贬谪分别时的痛苦已不言而喻。"此别"、"谪居"四字,又将题中的"送"和"贬"点出,轻灵自然,不着痕迹。
  作者在送别之地停下马来,与李、王二少府饮酒饯别,"意何如"、"问谪居",反复致意,其殷切珍重之情,显而易见,一开篇就以强烈的感情,给读者以深刻的印象。无怪乎方东树在《昭昧詹言》中说:"常侍(即高适)每工于发端。"中间两联针对李、王二少府的现实处境,从二人不同的贬谪之地分别着笔,进一步表达对他们的关心和安慰。
  "巫峡啼猿数行泪,衡阳归雁几封书?"上句写李少府贬峡中。当时,这里路途遥远,四野荒凉,《巴东三峡歌》曰:"巴东三峡巫峡长,猿鸣三声泪沾裳。"诗人设想李少府来到峡中,在这荒远之地听到凄厉的猿啼,不禁流下感伤的眼泪。下句写王少府贬长沙。衡阳在长沙南面,衡山有回雁峰,传说北雁南飞至此不过,遇春而回。归雁传书是借用苏武雁足系书故事,但长沙路途遥远,归雁也不能传递几封信。
  "青枫江上秋帆远,白帝城边古木疏。"上句想象长沙的自然风光。青枫江指浏水,在长沙与湘江汇合。这句写王少府到了长沙,在秋高气爽的季节,望着那明净高远、略无纤尘的蓝天,自然会洗尽烦恼。下句想象夔州(即今四川奉节县)的名胜古迹。白帝城为西汉公孙述所筑,在夔州,当三峡之口。这句写李少府到了峡中,可以去古木参天、枝叶扶疏的白帝城凭吊古迹,以求慰藉。
  这四句情景相融,结合得自然巧妙,读来自有一种苍凉中饱含亲切的情味。所写之境,从巫峡到衡阳,从青枫浦到白帝城,十分开阔,而分写二人,更显出作者的艺术匠心。作者在两联中,一句写李、一句写王,然后一句写王、一句写李,错综交织,而井然不乱,并且采用了"互文"这种修辞手法中的对句互见的方法,在一联中上句隐含着下句,下句隐含着上句,"巫峡"一联上句写贬谪荒远的凄凉,下句说要多通音信,表面看是对李、王分开讲的,实际上是对两人共同而言。同样,"青枫江"一联上句说流连光景,下句说寻访古迹,实际也是对二人共同讲的。这样,在精炼的字句中,包含了丰富的内容,既照顾到了二人不同的地点,又表达了对双方一致的情意,诗人巧妙的处理,使写分送二人的困难迎刃而解,收到了很好的效果。
  最后一联:"圣代即今多雨露,暂时分手莫踌躇。"诗针对李、王二少府远贬的愁怨和惜别的忧伤,进行了语重心长的劝慰,对前景作了乐观的展望。圣代雨露,是古代文人诗中的惯用之语,这里用来和贬谪相连,也还深藏着婉曲的微讽之意。重点是在后一句"暂时分手莫踌躇",意思是说:这次外贬,分别只是暂时的,你们不要犹豫不前,将来定有重归之日。全诗在这里结束,不仅与首联照应,而且给读者留下无尽的遐思。▲
appreciation
This is a farewell poem. This poem is written by the poet to send off two friends who have been demoted to official posts. It implies consolation and encouragement. One poem is given to two people, and the contents are both known as baht. Apart from the fact that the head and tail of the poem are always written together, the middle two couplets are written separately, not biased towards Hu. The last sentence in the couplet describes the scenery of Wuxia Gorge, which uses ancient folk allusions to indicate the desolate place in the Gorge where Shaofu Li went; The next sentence is about Hengyang, implying that Shaofu Wang would go to Changsha and hoping that he could send more letters. The last sentence on the neck couplet, "Sailing boats on the Qingfeng River in Changsha", is to write about Shaofu Wang again; The next sentence is about Baidi City, which is far away from Padang in the ancient primeval forest. It is about Shaofu Li again. They are interlaced, structured and emotional. The last two sentences are to persuade them to leave at ease and be called back soon. The whole poem is neither pessimistic nor negative.
The first couplet reads, "How do you feel about leaving here The poet first grasped that both of them were demoted and full of sorrow and resentment, but now they are about to separate from each other. He began with a question of deep concern to express his sympathy for the demotion of Li and Wang, and his regret for the separation. "Sigh" is the voice of sighing, placed at the beginning of the sentence, and the pain of relegation is self-evident. The words "farewell" and "exile" also point out the words "send" and "demotion" in the title, which are light, natural and traceless.
The author stopped his horse at the place where he left, drank and bid farewell to the two Shaofu, Li and Wang. He repeatedly paid tribute to them by saying "What do you mean" and "asking them to live in exile". It is obvious that his earnest and cherishing feelings made a deep impression on the readers with strong feelings at the beginning of the article. It is no wonder that Fang Dongshu said in Zhaomei Zhanyan: "Chang Shi (i.e. Gao Shi) works at the beginning." The two couplets in the middle, based on the reality of the situation of the two Shaofu, further expressed their concern and comfort from their different places of banishment.
"How many lines of tears do apes cry in Wu Gorge, and how many letters do the geese return to Hengyang?" The last sentence wrote that Shaofu Li was banished to the Gorge. At that time, the road here was far away and the countryside was desolate. The Badong Three Gorges Song said, "The Wuxia Gorge of the Badong Three Gorges is long, and the apes cry three times and touch their clothes." The poet imagined that when Shaofu Li came to the gorge and heard the shrill cries of apes in this remote place, he could not help shedding sad tears. The next sentence is Shaofu Wang's demotion to Changsha. Hengyang is in the south of Changsha. There is a back wild goose peak in Hengshan Mountain. It is said that the north wild geese fly south to this place, but they return in spring. Returning Wild Goose is a story borrowed from Su Wuyan's foot system, but the journey to Changsha is far away, so returning wild geese can't deliver several letters.
"The autumn sail is far away on the Qingfeng River, and the ancient trees are sparse near the Baidi City." Imagine the natural scenery of Changsha. Qingfeng River refers to Liushui River, which joins Xiangjiang River in Changsha. When Shaofu Wang arrives in Changsha, he will naturally wash away his troubles when he looks at the bright, clean, lofty and slightly dust-free blue sky in the crisp autumn season. Imagine the scenic spots and historic sites in Kuizhou (now Fengjie County, Sichuan Province). Baidi City was built by Gongsun Shu of the Western Han Dynasty. It was the mouth of the Three Gorges in Kuizhou. When Shaofu Li arrives at the gorge, he can go to Baidi City, which has towering ancient trees and luxuriant foliage, to pay homage to the historic sites for comfort.
These four sentences blend naturally and skillfully, and the reading comes from a kind of desolation full of cordial feelings. The realm of writing, from Wuxia to Hengyang, from Qingfengpu to Baidi City, is very open, and the writing of two people shows the author's artistic ingenuity. In the two couplets, the author writes about Li, Wang, Wang, and then Wang and Li, which are intertwined and orderly, and adopts the method of seeing each other in the antithesis of "intertextuality". In the couplet, the first sentence implies the next sentence, the second sentence implies the last sentence, and the last sentence of the "Wu Gorge" couplet contains the desolation of banishment. The next sentence requires more communication, which seems to be a separate speech to Li and Wang, In fact, for both of them. Similarly, the last sentence of the "Qingfeng River" couplet said "linger" and the next sentence said "search for historic sites", which is actually shared by the two people. In this way, the refined words and sentences contain rich contents, which not only take care of the different places of the two people, but also express the same feelings for both sides. The poet's clever handling makes the difficulty of writing and sending two people off easily solved, and has received good results.
The last couplet: "It's rainy and dewy today. Don't hesitate to part temporarily." The poem offers sincere consolation and optimistic outlook for the future against the sorrow and resentment of Li and Wang Shaofu's demotion and the sadness of parting. Shengdai rain and dew is a common language in ancient literati's poems. It is used here to link with relegation, and also contains subtle irony. The key point is in the last sentence, "Don't hesitate to part temporarily", which means that this time, the separation is only temporary. Don't hesitate to move forward. There will be a day of return in the future. The whole poem ends here, not only with the first couplet, but also leaves readers endless reverie. ▲