Enjoy the bests of beautiful East China with more fun? Take this 5-day tour package to admire the unbeatable poetic and romantic sightseeing of West Lake with fun cycling experience, which is one of the more recommended way to appreciate more splendors of the famous lake with more freedom. Of course, you will enjoy the idyllic paradise beauty and rich elegant culture in Hangzhou during your pleasant walk at the real lush tea plantation, interesting ancient street and a bunch of wonderful themed museums. The trip starts from Shanghai, and before Hangzhou, you will enjoy one day to Suzhou to have a nice bite of its tasteful artistic and literal glamour among the silk treasures and take interesting photos at the exquisite classic gardens. Moreover, you will have one full day in Shanghai to watch the city from the world top ranking towering skyscraper, hear stories from those historically left international buildings and treasures displayed at the national-class comprehensive museum, meet fashionable local young and elders at the landmark pedestrian streets, etc. This tour will show you the real "Heaven on Earth" and that is alive there in China.
Highlights of this tour
Enjoy cycling exploration around West Lake to see its tranquil lake views as well as the ancient bridges, pagodas, tree-lined walkways, beautiful hills, green islands and lush gardens and stroll at the Broken Bridge;
Soak in the interesting artistic culture of scissors, knives, swords, fans, etc. at the excellent and interesting themed museums at Qiaoxi Conservation Area in Hangzhou;
Appreciate the authentic glamorous silk products at the real professional factory, savor the poetic literal beauty at the traditional classic garden and walk at the historical riverside street at downtown Suzhou;
Look at the giant change of Shanghai during the past century with discoveries of its fascinating skyline and the Bund, outstanding collections at Shanghai Museum, exotic architectures at Former French Concession, etc.
Full Itinerary Day by day
Day 1 Shanghai Arrival
Ni Hao! Welcome to Shanghai, the biggest metropolis in China!
Upon arrival, you will be met by a local tour guide at the arrival hall of the airport/train station/port and escorted to check in your hotel in downtown by a private comfortable vehicle. The rest of today is on your own to relax. If you want to explore nearby, feel free to get some practical suggestions from your tour guide.
Optional Activity – Attend an entertaining Acrobatic Show, including breathtaking "balls of death" acts, chair balancing, hula hoops, juggling of benches, walking in the air, and other breathtaking performances (usually performed during 19:30~21:00).
Arrival Ideas: At present, there are many international and many domestic flights to and from Shanghai. Also, you can arrive in Shanghai city by taking a high speed train from Beijing (5-6hrs), Xian (6-7hrs), Hangzhou (1hrs), Suzhou (30mins), Huangshan (4hrs), and so on.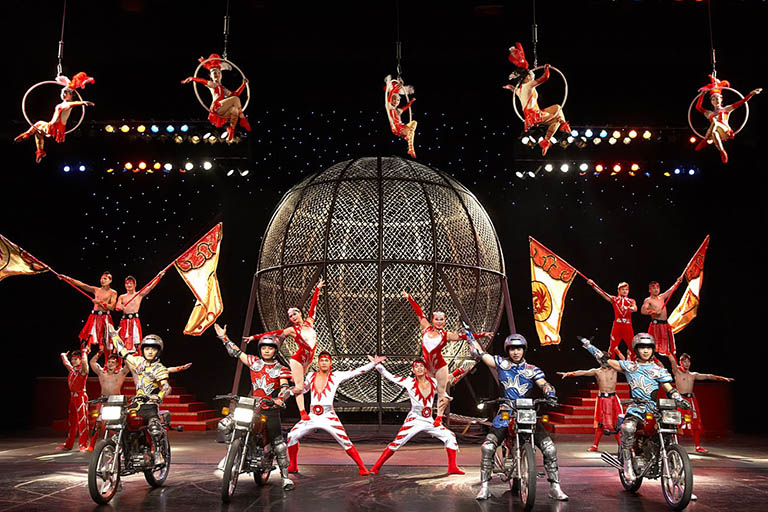 Day 2 Shanghai – Suzhou – Shanghai (B, L)
Today, you'll enjoy a one day side trip to discover the poetic Suzhou with about 1.5 hours' driving.
Start with an interesting visit to Lingering Garden, one of the Four Greatest Gardens in China as well as the perfect representative of traditional Suzhou Gardens. The Lingering Garden has synthesized almost all the classic features of Suzhou gardens. It is composed of residential areas, shrines, family temple and garden, making fully use of the changings between big and small, bend and straight, bright and dark, tall and low, tight and disperse, with the surrounding landscapes, such as trees, flowers, lake, sky, as backgrounds to create an ingenious system of space. Stepping into the garden, you will find the buildings, rockeries, corridors, pavilions, ponds and trees in Lingering Garden are all standing in the best place, neither too crowded nor too sporadic. The most incredible thing is that, in the same place, looking from different angles, you can enjoy different scenery. Making a step, you will get another feeling of another kind of scenery.
After visiting Lingering Garden, move on to next site Shantang Ancient Street, a wonderful place for a relaxing walking. It used to be an important trade and culture center during Ming and Qing Dynasties, and now is famous as "the miniature of old Suzhou and the window of Wu culture". Enjoy the ornate water-town style architectures, marvel at the bustling streets and savor at local snacks.
In the afternoon, you will go to explore the most historical site in Suzhou Tiger Hill. The famous Chinese poet in Song Dynasty (960-1279), Su Shi, once said, "It is a lifelong pity if having visited Suzhou you did not visit Tiger Hill." He was definitely right. The hill is only 36 meters in height, but covers about 3.5 acres areas with a number of historical sites some of which have history over 2,500 years. The most famous sites include the Yunyan Pagoda which is an over-1000-year-old pagoda with seven stories in height and famously leans much like the Leaning Tower of Pisa, and the Sword Pool where the King of Wu, He Lu, tested and buried his treasured swords about 2500 years ago. Apart from the history, the Tiger Hill is also an amazing place to go for a walk, enjoy natural scenery and experience local custom. Next, transfer from Tiger Hill to Suzhou No.1 Silk Factory where you could not only see how the silk is processed from worm to the final product, but also learn some history and culture of silk in China.
After all sightseeing, drive back to Shanghai.
Day 3 Shanghai (B, L)
After breakfast, you will visit Shanghai Museum, one of the Four Best Museums in China. There are over one billion cultural relics related to Chinese ancient history and art are exhibited inside, including precious bronzes, paintings, calligraphy, ceramics, jade, sculptures, traditional furniture, seals and old coins from more than 5,000 years ago to the Qing Dynasty. Da Ke Ding(bronze food vessel in over 3000 years ago), Bianzhong of Marquis Su of Jin (ancient musical instruments) are the top treasures to visit. An Audio Explanation Device will help you better learn the facts and knowledge of the exhibitions.
Next, take a leisurely walk in the charming Former French Concession which was a special premier living quarter and retail district for expats in early Shanghai (from 1849 AD until 1943 AD). You will browse hundreds of beautiful old French and European style buildings, apartments, villas, boutique shops, restaurants of a wide range of culinary styles standing at tree-lined avenues. Located among the ultra-modern architecture complex, the Former French Concession is a heritage treasury, a significant window into the city's up-and-down history and an excellent witness of the culture fusion of the East and Europe.
Next, visit the Shanghai World Financial Center (SWFC), "the Eye of Shanghai", one of the most incredible skyscrapers in Lujiazui. With a height of 492 meters (1,614 ft), the tower is the second tallest building after the nearby Shanghai Tower (632 meter/2,073 ft). Ascend up to the 474 meter-high 100th floor observation deck, try a thrilling skywalk on the transparent glass walkway and enjoy a breathtaking bird's eye view of the entire city, including the Bund, neighboring Shanghai Tower, Jinmao Tower and many surrounding attractions. Feel Shanghai lying under your feet and blue sky hanging above your head.
Later, get to Nanjing Road, Shanghai's earliest commercial street and one of the most popular current landmarks. Lots of big name brands, restaurants, cafés, souvenir shops and towering buildings can be seen when you stroll around this busy pedestrian mall. Continue your walk to the Bund, the No. 1 attraction in Shanghai. Stretching along the west bank of the Huangpu River, this 1.5km-long road was a simple towpath for transporting good but developed to the early "East Wall Street" in late 19th century, as a perfect blend of the East meeting the West. The Bund mainly features 52 various European-style architectures praised to the Exhibition of World's Architecture. Make a pleasant walk to see those western classical and modern style buildings and amazing skyscrapers of Lujiazui across the river.
After the tour, drive back to your hotel. (If you want to spend free time at the Bund, Nanjing Road or somewhere else please let your tour guide know.)
Day 4 Train to Hangzhou & Hangzhou (B, L)
In this morning, you will be transferred to take high speed train (1 hour) to Hangzhou, known as "City of Heaven". Upon your arrival at Hangzhou, our local guide will meet you and then set out on today's sightseeing in a comfortable, air-conditioned and private vehicle.
First, drive uphill to Meijiawu Tea Village, a refreshing wonderland surrounded by mountains with a large area of emerald Dragon Well tea plantations in neat lines and curves. Walk among the tea plantations with fun and take beautiful photos (Optional activity: you can pay a visit to the local tea grower's family and experience picking tea leaves, watching stir-drying tea leaves, enjoying tea ceremony, tasting Dragon Well tea, etc., which needs extra payment.). After that, go to China National Tea Museum to learn systematically about Chinese tea culture including the history, procession, customs and classification of tea, and admire diverse kinds of tea wares, machines, displays, etc.
Next, go to Wulinmen to take the 0.5 hour's sightseeing cruise on Beijing Hangzhou Grand Canal. That great canal dug from Spring and Autumn period is over 2,500 years old, which is one of the three greatest projects in China and a World Cultural Heritage. Appreciate the view of the modern and old houses on banks passing by and see the vibrant scene of different cargo ships and passenger ships coming and going just like that in the past centuries.
Disembark at Gongchen Bridge and have an interesting cultural visit to Qiaoxi Conservation Area which was called "Little Shanghai" for its prosperity in Ming and Qing era due to the convenient linking by the Grand Canal. Now, this cultural street block preserves lots of old folk dwellings and industrial sites and has a series of themed museums and exhibitions to introduce the culture and history of the Grand Canal, Hangzhou and China. Go to China Museum of Knives, Scissors & Swords to admire various scissors used in daily life and learn the developing story of Zhang Xiao Quan. It is a nationally renowned brand of knives and scissors of nearly 400 years old and still favored by lots of domestic consumers. Besides, have a great look at plentiful of swords for military defense and knives from ancient to now! Walk to the adjacent China Umbrella Museum. You will know how the world first umbrella was inspired from lotus leaves, their special status in Chinese literature, irreplaceable meanings in the wedding and marriage in China, detailed processing, etc. with displays of rich types and colors of umbrellas of different materials in China and the world. Then, go to the nearby Workmanship Demonstration Pavilion to watch the live demonstration of painting on oiled paper umbrellas and various handicrafts, such as making potteries, embroideries, bamboo weaving, etc. (Optional activities: You can experience one of the handcrafting activities if you are interested and time permits, which needs extra payment.)
Continue to enjoy a nice historical walk at Hefang Street, a unique pedestrian street to see the typical old and prosperous Hangzhou in South Song era. Stroll to admire the ornate old styled Chinese architectures, interesting local handicrafts, delicious snacks, etc. Then, walk to the century-old Chinese pharmacy on the street – Hu Qing Yu Tang, which is also known as Traditional Chinese Medicine Museum and was built by Xueyan Hu, a famous merchant in late Qing dynasty. Many locals still visit senior doctors there for treatment today. Marvel at the magic of traditional Chinese medicine by looking at the countless traditional Chinese medicines and herbs, various traditional tools and watch the live processing of medicines.
After today's visiting, be escorted back to your hotel in Hangzhou downtown. Have a good sleep!
Day 5 Hangzhou & Hangzhou Departure (B)
On this day, you'll enjoy your cycling exploration around the picturesque West Lake and bike from the Willow Park to Beishan Street (about 9 kilometers, 1 hour), and passing the beautiful sightseeing of the Leifeng Pagoda, Prince Bay Park, Yang Causeway, the West Inner Lake, Lotus Swaying in the Breeze Park, Yue Fei Temple that is dedicated to a revered general of the Southern Song Dynasty, etc. at the south, west and north belt of the lake. Park your bike and enjoy a nice walk to Gushan Hill and "Autumn Moon over the Calm Lake", an ancient, water-rimmed terrace to rest your legs. After having a look at the picturesque West Lake, continue to the famous lake landmark – "Lingering Snow Over the Broken Bridge" which is an arched bridge that gives the illusion of being broken after winter snowfall.
After exploring the West Lake, go to Feilai Peak (Peak Flying from Afar), which flew to China to spread Buddhism from India according to the legend. It features in over 300 Buddhist carvings lining the riverbanks and hillsides and tucked away inside grottoes. With over 1,000 years, it is the precious fresco treasure in the whole regions south of Yangtze River. Continue to the adjacent Lingyin Temple of nearly 1,700 year, which is the oldest and one of the most popular temples in Hangzhou. Hidden in the luxurious forest, it offers charming and peaceful landscape mixed with the strong Buddhist atmosphere among the large scaled of magnificent and antique temple clusters.
After the visiting, be escorted to the airport or railway station in Hangzhou for your flight / train to the next destination or home. Tour ends!