China, a land of mystery and enchantment, is filled with many images: gods and goddesses, mythical creatures, historical characters, dragons, unicorns.
Throughout its history, China has seen many conflicts, religions, and philosophies that have been interwoven into Chinese myths. In many of the well-known Chinese tales, we often find no clear distinction between reality and myth, earth and heaven, history and storytelling, past and present.
China is a mosaic of divergent philosophies and traditions. And we must remember this when we talk about China's ancient mythology. Despite their many themes and variations, most Chinese myths possess one common and central element: the battle of ordinary people against great adversity.
Here is a compilation of 15 famous ancient Chinese myths:
15. Chinese Dragon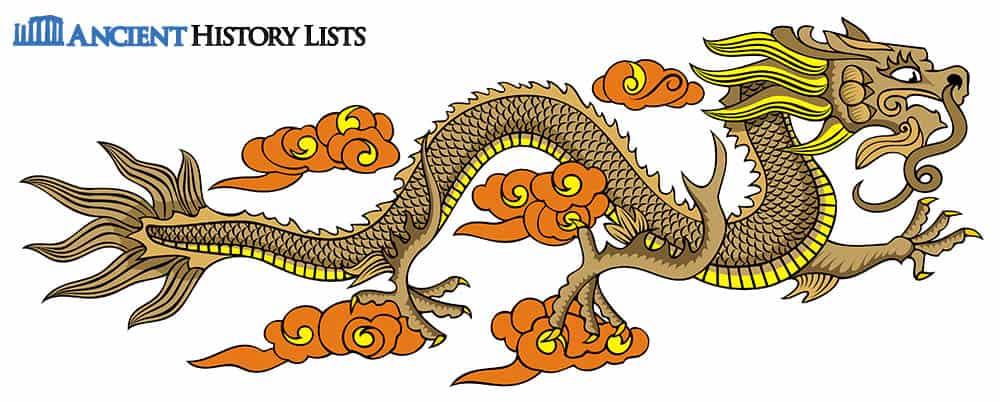 The Chinese dragon is the most iconic creature in the history of China. It is considered to be the controller of water, and dragons in ancient times were symbols of the emperor. They were also thought to bring good luck and fortune. The fearsome and mighty dragon was the noblest of all creatures but at the same time it was kindly and thought to have a golden heart.
Dragons are believed to represent both good and bad. They are responsible for tidal waves and destruction and are worshiped as the protectors of agriculture. Dragons are thought to represent courage, and it is considered auspicious to be born in the Year of the Dragon. This significance has grown out of the fact that many mighty warriors were born in Year of the Dragon.
The earliest Chinese mythologies contain many stories of the wondrous rulers of ancient times, but there are no creation stories.
The story of Panku (aka Pangu) is probably the closest Chinese version of a creation myth. Pangu is the central figure in the Chinese Taoist legends of creation. Pangu, the first man, is said to have been created out of the cosmic egg and had two horns, two tusks, and a hairy body.
According to the ancient myths, Pangu is said to have shaped the earth by chiseling out valleys and stacking up mountains. All this was accomplished using his knowledge of yin and yang, the inescapable principle of duality in all things.
Conclusion
When we look at the history of ancient Chinese mythology, writings seem to have begun in the Wei and Jin dynasties (220 to 420 AD).
Influenced by the ideas of alchemy and Taoist and Buddhist superstitions, various writers invented tales of gods and demons. When we read their stories, we see a great imagination and mastery of the written language. The practice of storytelling has continued through the generations. Like many other cultures, Chinese mythology is entwined with history.
Most of these myths date back to ancient times, and some even predate the recorded history of mankind.